Hello and Welcome to Drewitts Bulbs!
A family owned business since 1961, Drewitts Bulbs pride themselves on providing one of Australias largest bulb range to the highest possible quality.
Originally starting out growing Daffodils (Narcissus), Colin, bred and released many new cultivars to the world market. As the years went by, he broadened his interests to other bulb lines including Lilium, Pleonie Orchids, Species and Rare and Unusual bulbs. In 2004 Colin retired, handing the reigns to his youngest son, Tim.
Tim along with his wife Maddie and two young children, aged 4 and 2, have reshaped the business, now supplying pre packaged dormant bulbs to independent garden centres across Australia. They take great pride in ensuring the imagery is accurate for the product, the packaging is environmentally friendly and the bulb is the best quality possible. Along with supplying nurseries, they supply many Slow Flower farmers, supporting local cut flower growers and other small business's, and many landscape professionals.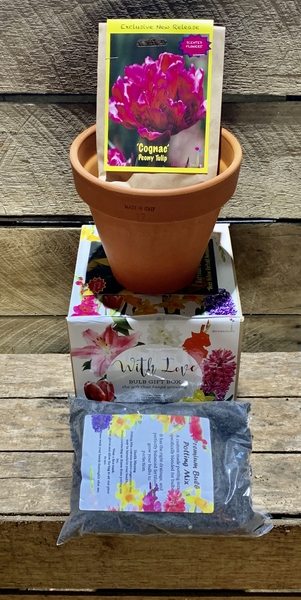 Quality Speaks for Itself
To ensure quality, many of the lines are hand harvested, hand cleaned and all are hand packaged. No machine can determine the quality like a trained eye, ensuring the best of the best makes it to our suppliers and ultimately the home gardener. Currently breeding, importing and producing large numbers of Dahlia, Daffodil, Liliums, Tulip, Peony and perennials, their product range is in excess of 1000 lines per year.
Along with the dormant bulb lines, they produce in excess of 50,000 potted bulb products annually for the nursery industry using both plastic and terracotta pots, they create bright and colourful lines for the nursery industry.
Proud members of the Nursery and Garden Industry Australia and the Nursery and Garden Industry Victoria, much of their spare time is spent educating the industry and public on bulbs, their growth habits and care.
We welcome you to our website, and hope that you find it useful! It is jam packed with growing information, planting suggestions and products currently grown. Please contact your local garden centre should you wish to purchase any of our products. If you are in the industry, and interested in stocking a high quality range or bulbs, please get in touch and we will see if we can be of assistance.